Today we wish to recognise and praise our A Level students who have done well in their results, worked hard and shown resilience. We will be updating this blog as the day goes on so make sure to keep checking back.
Oliver Potts
"If your mock exams aren't what you wanted, don't be disheartened. There is time to improve if you work hard. I'm going on to study Geography at Leeds. In the future, I hope to work in relief aid."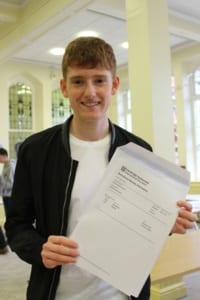 ---
Hazim Zameel
"It's still sinking in but I am really looking forward to studying Medical Engineering at Bath, particularly the 2nd year work placement."
---
Hannah Darwent
Hannah is heading to Manchester to do Maths and Philosophy. "I would advise any students starting their A Levels to stay calm and focused."
---
Adam Powell
"I think the build up to getting my results was a bit stressful but now i know i've got in to my first choice university I'm relieved. I'm going to do Engineering at Warwick! I'll be celebrating on a night out with friends tonight. Top advice – study in your frees!"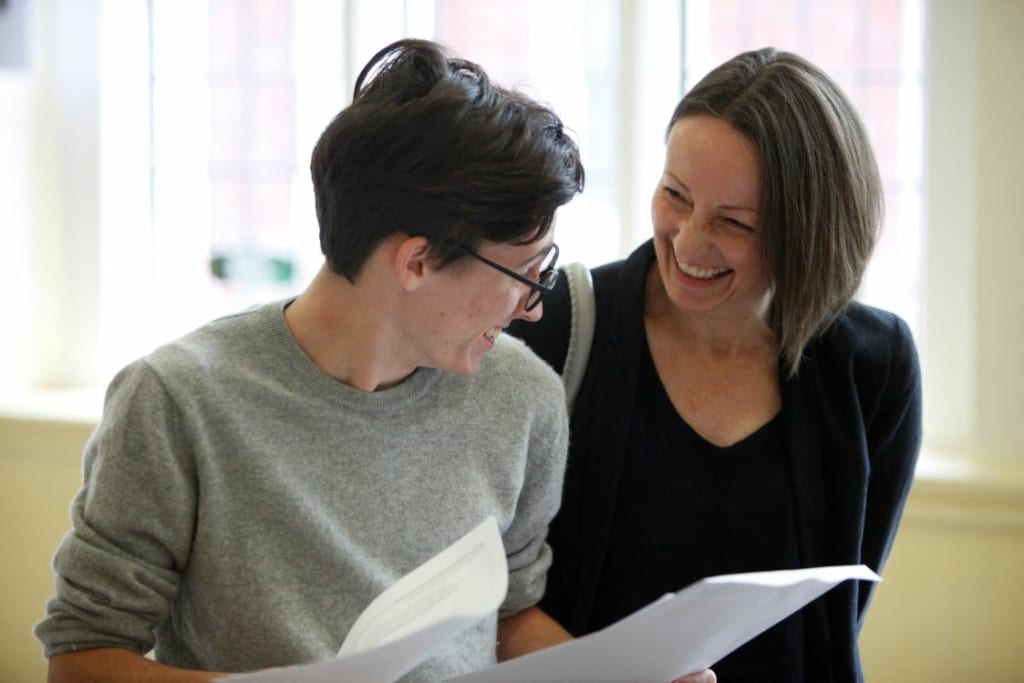 ---
Sanjay Mehta
Sanjay achieved 3A*s and is on his way to study at St Andrews: "It feels really good, i was nervous about getting my results but feel as though I've done myself justice. I'd say to any students staring sixth form to make the most of every opportunity."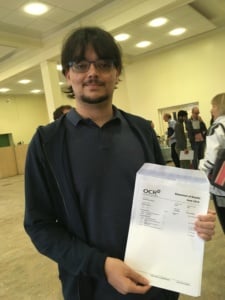 ---
Eleri Murray
Eleri will be going on to study Law and Spanish at Leeds. Her advice to students beginning their A Levels? "Work really hard, it's worth it!"
---
Matthew Benton
Matthew says don't underestimate taking your time to figure out what you want to do. "I i'll be going to work at an engineering consultants before reapplying to university next year. The only advice I would offer is to chill out and don't stress about it."
---
Mia Schultz-Froggatt
Mia is thrilled with her A and 2x D2s (A* equivalent in Pre-U) She said: "I will be studying Psychology at Newcastle and would advise Lower Sixth students to talk to Upper Sixth students for advice and help."
---
Lily Danson (Head Girl)
Well done Lily – 3 A*s! She said: "I'm totally speechless but can't wait to start studying at Cambridge!"
---
Jade and Zara Ashraf
Twins Jade and Zara: "We're excited to both be going on to study Business Management but we'll be going to different universities."
The pair achieved amazing results – with just one grade between them.
---
Ryan Johnson
"I'm really happy with my results! I'm going to be studying robotics at Queen Mary University in London!"
---
Isabelle O'Brien
"I've done better than I thought so will be taking a gap year and re applying to do English at Cambridge. I'm so thankful to the teachers at CHS who really believed in me when I didn't believe in myself and pushed me to do better."
---
Arun Jain 
Arun can't wait to get stuck into his PPE studies at Nottingham: "I'm very pleased and surprised with my results as I didn't think i'd done as well as I have. I'm celebrating with my family today and my friends this evening."
---
Sarah Belfield
Sarah achieved an impressive A*AA: "I've got what I needed and I'm off to Durham to do chemistry, I'm so excited! My advice to anyone taking a levels would be to not get disheartened of your mocks don't go well."
---
Adam Wolowczyk
Adam did an amazing job and achieved 4xA*s "I'll miss all the people and the teachers at CHS but am looking forward to the next chapter as I pursue a career in Medicine at Cambridge. There are so many great opportunities at CHS, i'd tell any future A Level students to get stuck in to everything."
---
Raphael McMahon (Head Boy)
A huge success for Raphael who achieved 2xA* and 2x D1 (A* equivalent in Pre-U) – after a gap year he will be taking up his place studying languages at Cambridge.
---
Rachel Prince
Rachel achieved an amazing A*A*AA: "I'm really excited to be going to Durham to study Engineering. I think I did well because I tried my best not to stress too much while working really hard."