Belgium Bound – An Audience with Chris Davies, Liberal Democrat Politician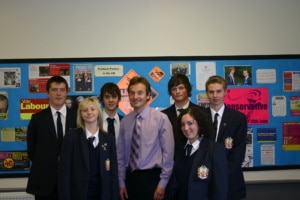 It is more than a little strange to come face to face with a person who is employed to represent your views to a Parliament whose representatives span an entire continent. But it is even weirder when you are happily unaware of said individual's existence until you hear that they will be delivering a Think Tank talk on the UK's membership of the EU and what it's really like to be a Member of the European Parliament.
Chris Davies doesn't look like an MEP. Not that I'm acquainted with many (if any) MEPs personally, but I'd imagine that many of his colleagues over in Brussels wouldn't appear quite so at ease when addressing a potentially hostile troop of 16-18 year-olds on a Friday lunchtime. It's most probably down to experience – Davies has represented the North West of England in the European Parliament since 1999 and currently coordinates the Environment Committee for the 84-strong European Liberal Democrat (ALDE) Group of MEPs, so convincing a bunch of teenagers that the EU actually achieves its objectives is surely child's play in comparison.
Davies clearly enjoys his role in the European Parliament, speaking enthusiastically about the importance of environmental policy and fisheries policy in particular; over-fishing apparently being one of many issues currently causing consternation between EU member states.
In terms of his personal achievements while in office, Davies takes pride in the fact that he was heavily involved in creating the legislation approved by the European Parliament's public health committee ruling that all cigarette packets should in future contain health warnings covering at least 75% of the surface (up from 40% at present) as a disincentive to consumers and an attempt to reduce the 700,000 deaths from smoking every year in the EU.
This achievement marks a stark contrast to Davies' two years in office as the Member of Parliament for Littleborough and Saddleworth (the seat was abolished by the time of the 1997 General Election) as when asked if he felt his work in Brussels was more effective than his position in Westminster, he said of his time in the Commons "I couldn't tell you a single thing I achieved".
Amongst Davies' more amusing anecdotes are the revelations that Nick Griffin, Chairman of the British National Party and, like Davies, an MEP for North West England, dedicates far more of his energies in the European Parliament to policy on nuclear power than on immigration, meanwhile Nigel Farage rarely turns up to committee meetings, let alone votes!
In presenting an alternative view on the EU to that of recent speaker John Whittaker, the ex-UKIP party member, Davies gives a clear and calm justification of the UK's status as an EU member state and so the fire of debate, though perhaps not quite yet blazing in the corridors of Cheadle Hulme School, remains quietly smouldering away.
Alex Williams, Class of 2014