Class of 2029: We can't wait to meet you!
As you prepare to start secondary school in September 2022, in this blog post, as a Year 7 Waconian in training, you can become more familiar with CHS's Senior School.
To find out more, hear current pupils and teachers share their own thoughts on what makes CHS special and discover the exciting things that await you this September as the Class of 2029!
The Waconian Diploma
As a pupil of CHS you will be able to take part in The Waconian Diploma. It is bespoke to CHS and will recognise your involvement with the many opportunities you choose to get involved in beyond your timetabled lessons.
The programme has two levels – Foundation and Excellence. In Year 7 and Year 8 you will have the opportunity to achieve at least the Foundation Level, but you may also strive to gain the Excellence Award. Additionally, there will also be a Distinction Award for a small number of pupils who excel in the Diploma.
The Diploma celebrates your involvement with each of the school's three pillars – Academic, Altruistic and Active. At the start of Year 7, you will receive information regarding a range of different opportunities available so you can plan and log you progress.
When self-reflecting, you will be encouraged to align your activity to at least one of the School's five Waconian Values – integrity, resilience, contribution, compassion and endeavour.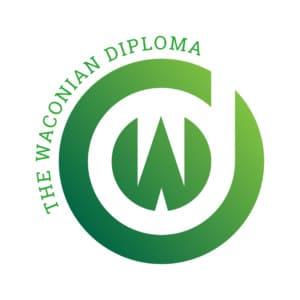 The CHS Houses
Upon joining CHS you will be placed in one of our 4 School Houses! Yes… just like Harry Potter (although without the Sorting Hat!) you will become a member of either Allen, Clarke, Marsh or Whitehead.
You can gain points for your House by taking part in lots of different activities throughout the year.
Click each crest below to find out more about each House
You can learn even more about the Old Waconian each house was named after – and see what they looked like! – by clicking here.
CHStream
Tune in and watch an episode of CHSTV or listen to The Ed. Podcast to peek behind the scenes and find out more about day-to-day life at CHS.
Stay active with the Sport department, get creative with Art and Design and Design Technology, learn what's been keeping the linguists busy, or what's cooking in the kitchens… plus much, much more.
CHS's current pupils, staff, parents and Old Waconians all feature, and our very own podcast is available on Apple, Spotify and all of your favourite streaming platforms.
Join the crew!
If you enjoy the episodes, you can even get involved with the TV and Podcast teams when you join in Year 7… so if you're a budding journalist, enjoy writing, or making videos, and want to develop your skills we look forward to seeing you at a future production meeting!
MEANWHILE…
Take another look around
If you're wondering which buildings to find your favourite subjects in, familiarise yourself with the site by taking a tour with Old Waconian Oscar, or join our School's buzzy mascots Waccy and ERICC by taking a bee's eye view with a flyover of our 83 acres… all from the comfort of your home.
Simply click on the films below, or head over to our very own YouTube channel!