Rethinking the pupil experience at school
Introducing a diploma model will embed educational breadth and reduce our reliance on a rigid and outdated exam system
by Mr Neil Smith, CHS Head
The following blog was written for the Rethinking Assessment group and is also available to read here.
A few years ago, I participated in a professional development visit to Swarthmore College, one of the USA's top liberal arts colleges, a visit which also took in a day spent with senior leaders at one of the leading high schools in Philadelphia.
This transatlantic visit provided arguably the biggest jolt to my own thinking about what an education should look like of any professional development I have undertaken.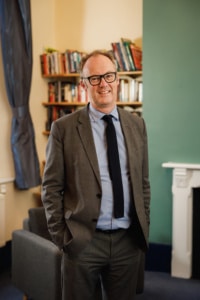 In particular, reflecting on what I had seen and heard about the way that a broad-based liberal arts curriculum, and an environment in which schools had the flexibility to design and asses their own courses could enhance the education of pupils, I came away with 3 questions which would shape the way I thought about education in our schools:
1. If we were serious about delivering a broad education why do we largely provide an education up to 16 which focuses purely on academic qualifications, meaning genuine breadth of educational experience is neither a requirement for young people or formally acknowledged?
2. Why do these formal qualifications seemingly reinforce differences between subjects rather than encourage the type of interdisciplinary approaches which students and academics working in these areas deploy at universities and in the workplace?
3. Why does the focus of our assessment model purely concern itself with the ability of pupils to perform well in examinations?
Over the course of the last couple of years at Cheadle Hulme School we have commenced a significant overhaul of our Lower School (Years 7-8) curriculum, the first stage of a review process which will work its way up over time throughout all age groups in the School. The work in Lower School comprises two interlinked dimensions which, combined, aim to hopefully address the issues implicit in the 3 questions I have reflected on since my visit to the US.
The first dimension of the process is a requirement for departments to consider the subject-specific and broader competencies which they wish pupils to develop, enhanced by the inclusion of a compulsory inter-disciplinary component which builds on common competencies, areas of enquiry and of content.
This, however, is not a straightforward task. Departments are understandably, given the requirements to ultimately prepare pupils to sit public examinations, driven by a desire to see pupils succeed in their particular subject. However, teaching someone to consider a topic, issue or enquiry through the lens of a different discipline can only enable them to gain a deeper knowledge of that period or event whilst also developing their problem-solving and evaluative skills. Departments, however, have demonstrated considerable creativity in not only identifying common competencies which they teach but also identifying broad enquiry questions which they have agreed to tackle in collaboration across multiple subject areas. These enquiries include a study of the factors which shape our identity to be studied in Year 7, followed in Year 8 by an exploration of the main drivers of climate change.
The second dimension to the Lower School reforms is driven by a desire to embed the breadth of the opportunities available at the School in a formal programme which all pupils in Lower School would have to participate in. Having experience of delivering the International Baccalaureate, I recognise the intrinsic value in developing a programme which both required participation and also provided recognition of engagement in all aspects of school life. Without such an approach, it will be so much harder to emphasise what we expect of our pupils throughout their school career. By creating a new Lower School Diploma we aim to make explicit what we believe a CHS education should involve, whilst preparing them for the remainder of their time at the School and beyond.
In doing so, constructing the compulsory elements of the Diploma: Curriculum; Independent Enquiry; the Waconian Programme (our school-developed RSE/ Careers/ Citizenship course); Service; and Co-curricular participation we also seek to provide meaningful opportunities for our pupils to develop and display the '5 Waconian Values', which are at the core of school life.
Bridging the curriculum reforms and the new Diploma are year group independent enquiry research projects, developing the ability to think, analyse, evaluate, research, communicate and reflect on each of these processes, taking the very best aspects of our own experience, and the operation of externally-assessed project qualifications such as the Extended Project Qualification and IB Internal Assessment and Extended Essay. In Year 7, pupils write their research project on the question of "Who was the greatest Mancunian?", whilst in Year 8 pupils are given a free choice what to research and how they wish to present their final piece of work. Both year groups are also required to submit a reflective production log, summarising how they approached their research and how they have deployed the School's Thinking Skills (Investigating, Analysing, Collaborating, Creating, Evaluating, Communicating) in the process of constructing their project. Whilst the independent research projects develop essential academic skills, they also nurture an ability to collaborate with others whilst demonstrating that schools can come up with their own robust assessment models when required to do so.
Our current focus of reform is on Years 7 and 8; however, we believe that we are establishing the foundations of an education model which will eventually lead to a 14-16 programme enabling our pupils to demonstrate all that they are capable of whilst providing the best preparation for post-16 study, university and the work environment in which they will find themselves.