Charities News – Autumn Term 2019
By Caroline Dunn, Deputy Head – Admissions, Service and Partnerships
I want to thank all our students and parents for all of your support for the charitable and altruistic work that we did during the Autumn Term of 2019 and to share some of the highlights with you.
Fundraising
Each year we identify Whole School charities to support; the charities we are supported in 2019 were The Gambia, The Teenage Cancer Trust and The CHS Bursary Fund.
We started the term with our annual Charity Hike raising over £4000 (so far!) Monies raised have been split between our Whole School Charities and our four local House Charities. Thank you to all those that supported the event.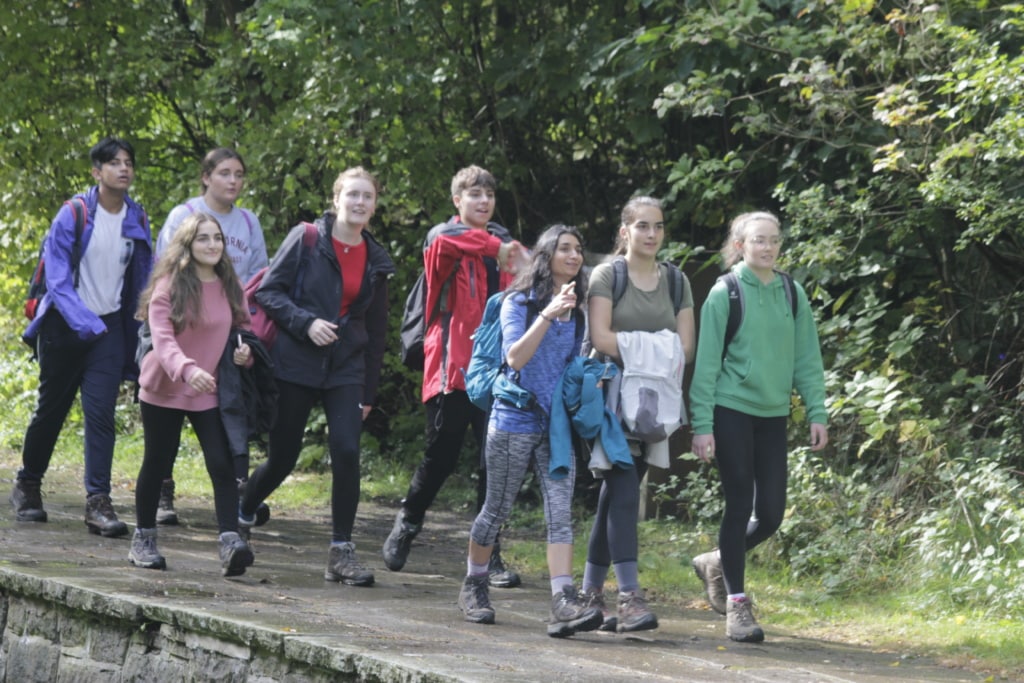 We focused much of our fundraising efforts on raising money for the Teenage Cancer Trust (TCT) which is one of our Whole School Charities. In addition to the 80s non uniform day, the fabulous 'Shrutes' performed at the major North West fundraiser event organised by TCT, competing in the Battle of the Bands. The Shrutes were amazing and so deserving of the accolade of winning Battle of the Bands. They were talk of the night and a joy to work with. A real credit to themselves and the School! Watch the Shrutes performing on the night.
In addition, the students in each House chose four local House Charities that they wish to support over a two year period. Marsh House are supported East Cheshire Hospice, Allen House supported Beechwood Cancer Care, Clarke House supported Childflight and Whitehead House supported 42nd Street. Monies were raised through the Charity Hike, Cheadle's Got Talent and our Christmas Jumper Day. More House Charity Events happened in the Spring Term including the House Music Competition, Chocolate Tombola and the Easter Egg Collection.
We also continued to fundraise for two charities close to our heart as both have been supported strongly for a number of years by Old Waconians. The charities are Hope 4 the World, empowering the poor, saving lives and building communities in Myanmar and Small Steps which provides pre-school education to children with special needs in Buwenda, Uganda. Hope 4 the World is supported through monies raised at our annual Charity Hike and MUN fundraise throughout the year for Small Steps.
Each section of the Senior School also identified causes that they wish to support. Building upon the generous donations by the CHS community over the years the Sixth Form School Council are leading a stationery collection to donate to schools in The Gambia when we travel out there next year.
The Upper School raised awareness of homelessness. Year 9 collected for local foodbanks and the Upper School Captains coordinated the collection of goods for the Wellspring Rucksack Project. They collected pre-loved rucksacks, sleeping bags, hats, gloves and scarves and warm clothing to pack into the rucksacks for homeless people in Stockport. In March we had our annual Soup Kitchen where we replaced our usual food offer for soup on one day and asked that students contribute to the foodbanks once again. The School Council also planned a Big Sleep Out in the Spring Term to raise awareness further of homelessness in the local area.
The Lower School chose to support Hits Radio's Mission Christmas appeal again as it supports local children who are not as privileged as ourselves. Over the Christmas period the appeal helped provide thousands of children with Christmas presents, when they might otherwise face a Christmas without any gifts. Thank you for your generosity and support; we have collected in excess of 100 gifts of all shapes and sizes for children from babies to 18 year olds.
At the end of each Term we hold an Altruism Week to enable individuals to raise money or awareness for charities that they are particularly passionate about. During the Autumn Altruism Week, students have organised a Peruvian Themed Christmas Market. Stalls have been organised by the CHS Peru Team members who will be supporting initiatives in the communities they will visit.
Community Outreach
---
In addition to the fundraising we increased our local community work. We had staff and students going out to our local state primary partner schools delivering a range of subjects and opportunities ranging from Maths to Music to Modern Languages to Classics and our Science Outreach Programme has continued to strengthen with 6 schools coming on site for specialist science workshops led by Dr Carlin. We were delighted to have the Cheadle Heath Choir join us at the RNCM for our Christmas Concert and their talented artists take part in a Workshop led by by Mr Hayley and our students at the Manchester Art Fair.
In addition, we invited senior citizens from the local area and local care homes to a Coffee and Carols Event. Thank you to all the students who co-ordinated the entertainment, sang and played music, organised and donated raffle prizes, made personalised Christmas cards and spent their afternoon ensuring that all of our guests had an afternoon to remember.
A group of Year 7 artists worked with Miss Baker and Year 9 students to create a ceramic tile collage in large frames to decorate and brighten the walls of the Winnicott Centre at the Manchester Children's Hospital and our musicians have been visiting local GP surgeries and Care Homes to bring the joy of music to our local community.
Christmas Volunteering Opportunity

If like me, you want to do something altruistic over the Christmas break I have the perfect opportunity for you! The Just Helping Christmas Tree Appeal allows you to help your local community whilst working off your mince pies!
The benefits are three fold; you get your Christmas Tree taken away hassle free without finding pine needles in your car for the next few months, the monies raised all go to St Ann's Hospice and the trees are then recycled. After costs are covered 80% of monies raised go to the Hospice and 20% to other local charities. If you would like to arrange for the collection of your Christmas Tree please click here.
If you would like to go a step further and either you or your son or daughter would like to volunteer to support this great appeal, please complete this form.
Volunteering activities include leaflet dropping in local areas and helping out on the Tree Collection weekend at Bramhall Cricket Club. Areas that still need leafleting are Cheadle Hulme, Cheadle, Heald Green, Gatley, Cheadle Heath, Edgeley and also parts of Hale, Bowdon and Altrincham. Around 50 older homes can be leafleted in an hour and about 60 new homes per person. If you think you could get a mini team together or find a couple of hours yourself to help between now and the 5th January please complete the form and I will pass your details onto Iain Tittle, one of our parents and a trustee of the Charity who will contact you with more details. There is a similar charity operating the same scheme in the Holmes Chapel area. Please complete the same form if you would like to support East Cheshire Hospice in the same way.