Each year CHS remembers those who have fallen and suffered resulting from the impact of war, and honours those who have, and continue, to dedicate their lives to service.
Photos From The Service of Remembrance
Joining together in front of the Main Building, CHS pupils, staff, Old Waconians and members of the School community gather to take part in an annual Service of Remembrance.
This year's ceremony marks the School's involvement in World War Two in 1941 and includes poignant readings, the Last Post and 2 minutes of silence.
Pupils have also been invited to place a wooden poppy stick, marked with the name of someone they would like to remember, in a field of remembrance.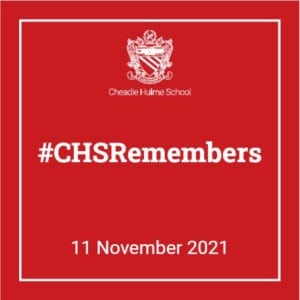 Major Andy Martin
Army Air Corps and Old Waconian, Class of 2003
What is your role?
I am currently a helicopter flying instructor on the Army Pilots Course at RAF Shawbury, training the next generation of Army pilots on the EC135 helicopter. Prior to that I was a weapons instructor on the Apache Attack Helicopter.
What do you love about your role?
Taking soldiers and officers from being unqualified to earning their 'wings' as Army pilots. It's a very proud moment in their careers so training them to get to that point is extremely rewarding. Flying helicopters low level through some of the most stunning scenery in the world is also pretty special!
What are the challenges?
Military flying can be quite dangerous, especially when additional complexities are added in, such as night, low level or in formation with other aircraft. Students need to practice this and be allowed to make their own mistakes, however dangerous situations can develop in seconds so as an instructor, I need to be able to take control if required, in time to recover safely.
What is your favourite memory of your time at CHS?
Probably too many to pick one, but a weekend school ski trip to Aviemore in Sixth Form was definitely up there!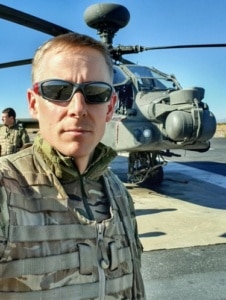 What does Remembrance mean to you?
We all have very busy lives, where we often don't have, or don't make time to stop and take stock of things. Remembrance allows us, whatever else we have going on, just to pause and consider the sacrifices that have been made by those who came before us.
Prior to becoming a pilot, I served in the Parachute Regiment in Afghanistan, so for me personally, I remember those who never made it home from that tour and the sacrifices made by them and their families.
Where will you be this year on 11 November?
I will be at my duty station of RAF Shawbury, where we will be able to come together and hold a silence at 11 o'clock.
Matthew Barlow
Royal Marines Captain (retired) and CHS Parent
What was your role?
As a Royal Marines Officer you tend to move jobs every 12 to 24 months so I had several roles throughout my career. My favourite title I attained was "The Physical Training & Sports Officer" of the Royal Marines (PT&SO)."
What did you love about your role?
I had said at my joining interview to becoming a Royal Marine, 3 years before starting training, that I wanted to do that job and I achieved my goal. I got to join a very select number of individuals who had progressed to the pinnacle of the Physical Training organisation.
What were the challenges?
Like all jobs and roles there are always challenges. Specifically we were going through government scrutiny as they were trying to reduce expenses so we were being expected to do the same job with less manpower, whilst maintaining Health Executive safe standards and OFSTED outstanding delivery.
What does Remembrance mean to you?
Remembrance is a time I think about the friends who have sacrificed all, the ones who will be always changed and the families who will never be the same. It is a sad time, but one that gives us a chance to reflect on the good graces we receive daily.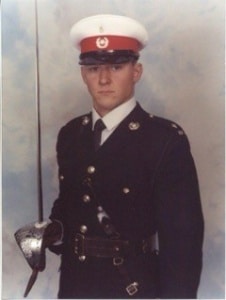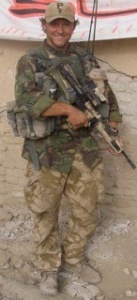 Above: Matthew at his Passing Out Parade to become a Royal Marines Officer (December 2006).
Left: Matthew as Troop Commander in Afghanistan (May 2007) on Operation Herrick 5.
Major James W Wyatt CEng RE
Old Waconian, Class of 2003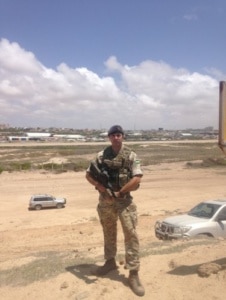 What is your role?
I am an instructor within the Royal Military Academy Sandhurst Group where I teach tactics, leadership, management and planning to Junior Army Officers from all specialisms in the Army. While this is a generalist Officer role that can be filled by any Officer of my seniority, I have also had numerous prior roles in Military Engineering.
What do you love about your role?
In my current role I have gained a love for teaching and it is the students that really make it a joy. As an Army Officer the opportunity to be in public service provides me with a purpose in life greater than I could have imagined when I was at school and I would thoroughly recommend any public service role serving the common good. What I love about the Royal Engineers in particular is the broad range of experiences and skills I have gained from becoming a Bomb Disposal Officer on one extreme to completing Masters Degrees and becoming a Chartered Engineer on the other.
What is your favourite memory of your time at CHS?
Rather than a single memory it is the shared and enduring memories I have with my friends. I left for University in 2003 and am still in touch and meet up with a great circle of friends 18 years later.
What are the challenges?
The military offers both much higher peaks and lower troughs than the majority of careers in industry. For the most part these challenges are what make the job what it is because overcoming adversity as a team leads to ever stronger bonds which bind us together as people and as a team. I talk a lot with my civilian friends and from what I have seen it is difficult to find an organisation that both cares and supports its people so much but at the same time, for focussed periods, expects so much from them too.
What does Remembrance mean to you?
While naturally my thoughts are of the huge sacrifice my grandparents' generation made for peace, like many who have served overseas on active operations I also think of those I knew personally who were killed or injured in service of our country and in pursuit of creating peace. Remembrance day is understandably inextricably linked to the Royal British Legion in this country. While other charities and causes have waxed and waned in popularity, the RBL has been of constant support to ex-service people and their families not just in marking remembrance but it continues to give direct help to those who need it.
Where will you be this year on 11 November?
I'm likely to be at the memorial in my local town where we have settled in Devon. Some previous years I have had a role in larger parades but I prefer to attend Remembrance ceremonies in the smaller villages and towns where I have a family bond if I get the chance.
Captain Jamie Grace
Old Waconian, Class of 2012
What is your role?
I am B Squadron Second-In-Command at the Queen's Royal Hussars.
What do you love about your role?
I love the variety. Every day is different. For example, we are preparing for an upcoming Operational Tour to Estonia as part of the NATO mission against the Russian threat, as well as personally preparing to partake in the Arctic Warfare Instructors Course in Norway early next year. There are so many different opportunities in the military that civilian jobs cannot offer. I also deployed on Kenya earlier this year to conduct an exercise with over 1500 soldiers. The travel and experiences I've had will be memories I will hold for the rest of my life!
What are the challenges?
The main challenge is leadership at such a young age. Of course going through the Royal Military Academy Sandhurst teaches you a guideline on how to be a British Army Officer. However, when you first commission you will manage the careers of over 20 soldiers. Many of them will be older than you, some of them will have deployed on Operational tours to Afghanistan and Iraq, and all of them will have spent longer in the Army than you have. It's all about how you conduct yourself in front of them, as well as working tirelessly on their behalf to ensure they are your first priority. I am now second-in-charge of a Squadron of 97 tank soldiers. Having oversight on their family lives, courses, and career structure is a fine art to balance. This again is something that is not offered in the civilian world at such a young age.
What is your favourite memory of your time at CHS?
It's the friendships from CHS that have carried on until now. As a year group we were incredibly close and it's something we pride ourselves on even today. We recently had the wedding of two Old Wacs (Duncan & Sophie Watmore). There were almost 50 Old Wacs there from our year group and we are just as close as we were at School. All 4 days of the wedding were spent reminiscing of all the adventures we had as the class of 2012, whether that be sports, academics, or socialising on the weekends.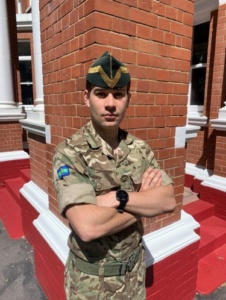 What does Remembrance mean to you?
Coming from a military family, Remembrance means a lot to me. As long as I can remember I've always attended local parades with my parents to remember not just family friends who have paid the ultimate sacrifice, but all those who have served our country. I remember fondly the 'parades' that were conducted at School on the main building steps for Remembrance. It allows everyone to take a moment out of their hectic day to reflect on the sacrifices that have been made for our country.
Where will you be this year on 11 November?
My Regiment (The Queen's Royal Hussars) conduct a parade in London at the cenotaph to remember those from the past. All Officers from the Regiment (new and old) will then meet at the Cavalry and Guards Club to celebrate the day.
Major Rich Barnett
Old Waconian, Class of 1997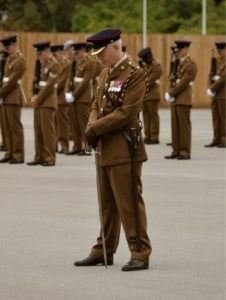 What is your role?
My official title is Major Rich Barnett, Officer Commanding, Chavasse Company.
I command 35 permanent staff in an Army Training Centre. My role is to lead the team that trains recruits in basic soldiering skills. At any given time we have around 125 recruits.
What do you love about your role?
Leading such a talented team. It's a great privilege and a real responsibility. I love using my experience and knowledge to help my people become even better. Over 14 weeks, I get to watch them turn people with no experience into professional soldiers.
What is your favourite memory of your time at CHS?
I loved being on the rugby team. The camaraderie was excellent, I still regularly see friends with whom I played rugby.
What are the challenges?
I have a lot of vulnerable adults under my care, and as many as thirty of them might be under 18 years old. They are always a diverse group and everyone has a different story. I have to ensure we identify every individual's needs, to provide the care and attention they deserve. In a fast paced, high pressured environment the recruits are well outside their comfort zones. This can be stressful, it's crucial to look after them.
What does Remembrance mean to you?
Remembrance is a poignant, powerful act. It means remembering friends and colleagues who have fallen. It binds the Armed Forces and the public together. It demonstrates recognition and appreciation that in the service of Great Britain and the Commonwealth, people have made great sacrifices. For the families of those affected by conflict, I think Remembrance is especially important as a mark of respect for their loved ones.
Where will you be this year on 11 November?
I will take part in a Remembrance parade somewhere. Potentially where I am based down south, or I may look for something nearer home around Stockport.
Readings From CHS's Service of Remembrance