Languages in the Sixth Form: How do we recruit more students?
Former Head of Modern Languages, Mr John Wilson asks how School's can encourage more students to study languages at A Level and Pre-U and offers his 10 tips to recruit linguists in to the Sixth Form.
The challenges of recruiting linguists in the Sixth Forms remain. We are regularly reminded of the decline in the number of entries. However, top universities are keen to remind us that Modern Languages are valuable facilitating subjects, whatever the chosen degree course. Furthermore, languages are a fundamental part of the curriculum in order for our students to thrive in the increasingly international job market.  More and more Modern Languages departments seem to be concerned that the vulnerability of languages is compounded with the onset of a return to a focus on 3 A Levels, perceiving languages to have often been the fourth option.
Here are 10 things to consider in order to help boost numbers in the Sixth Form. These could be considered for students to enjoy prior to Sixth Form, to whet their appetites for what is to come, and create positive word of mouth, exciting students about life as a Sixth Form linguist.
Do your best linguists in Years 9 and 10 know they are good?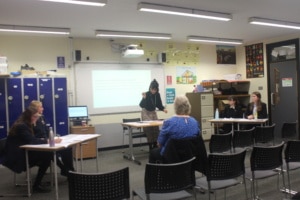 In striving for fluency and linguistic proficiency we, as modern linguists, are not always good at celebrating success among our best languages students in the younger years. These bright and conscientious students may well be focusing on all the language they cannot produce as opposed to that which they can. A letter home towards the end of the academic year from the Head of Modern Languages to specifically acknowledge their talent and explain what they have achieved goes a long way. Such a letter can be accompanied by a suitable book or film to further their interest and cultural awareness.
How often do you have visiting speakers?
The range of speakers which can deliver insightful talks to students to remind them of the significance of languages is huge. Your local university will be delighted to send admissions tutors to reveal the truth behind offers for degrees and how career prospects are enhanced. Academics will be only too pleased to share their passions for linguistics, cultures, politics and societies. Alumni who have gone on to use their languages will be delighted to return to their school to share their stories and anecdotes of the challenges of their year abroad and subsequent careers. Current Sixth Form students will do you proud as they allay the fears of your brightest students in Years 9, 10 and 11. Multinationals represented nearby will be happy to come in to underline the importance of languages in the workplace. Of course, any series of talks needs a suitable audience and, even with the best will in the world, young people will not immediately see the benefit of attending such sessions. So, a certain level of bribery is required – acknowledgement of attendance in reports, effort grades and, of course, food.
Do you run trips?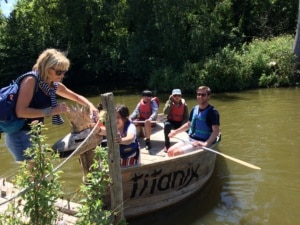 It is very important to give students the chance to visit the countries where the language is spoken, ideally in each Key Stage. These trips need to have the right balance of fun, culture and language – ideally with the 3 being interwoven. With the completion of each trip, let students know about the next opportunity at the next stage of their learning. For example, our Year 11 trip to Madrid includes regular mentions of the Sixth Form trip to Barcelona to whet their appetite. The Sixth Form trips themselves should include preparation from the students so that they are not passive during their visit. Give students responsibility for travel arrangements and general itinerary wherever possible. They can be the experts on certain cultural areas, giving presentations on location based on research prior to the trip. Overseas trips should be inclusive in order that as many students as possible benefit from the opportunity provided. Schools seem to have more and more trips, often with dubious educational value; language trips must be prioritised. Our more ambitious language trips should be supplemented by trips closer to home; theatre, cinema, dance and cookery workshops are all possibilities. Students need to realise that modern languages and their cultures are not just something beyond our borders.
Do your students have active involvement in the running of the Department?
Recruitment of Language Ambassadors from a range of year groups on the student body, giving them specific responsibilities, will increase appreciation of the opportunities available. It will also be an invaluable learning experience for them and reduce your workload. Students can arrange guest speakers and assist with clinics and other clubs. These students can also be consulted when reviewing curricula and trips. All of this will make them feel a part of the language-learning community and encourage them to remain a part of it. Younger ambassadors will be interacting with Sixth Form linguists too and the "good word" will be spread.
How much culture is involved in their learning prior to Sixth Form?
We simply have to share the culture of our languages to add substance, context and general excitement to the process of language learning. This will come in a variety of guises but knowledge of life in the countries where the language is spoken is incredibly motivating for students; it is wrong to leave it until Sixth Form. Sometimes we are so obsessed with our students meeting the requirements for examinations that we lose sight of why languages are learnt in the first place.
Do you take grammar seriously?
Hopefully positive changes at GCSE will mean that grammar is now taught properly, in depth. It is our potential Sixth Form linguists who suffer when we set a glass ceiling at GCSE level, providing them with no more than what they need for examination success. The gulf between GCSE and Sixth Form will be perceived as too wide by many through word of mouth unless we teach grammar properly.
Do your students use language for real purposes?
There is nothing more motivating for a language student than using language for real purposes. This can be achieved through opportunities on trips such as giving students a budget in a market to buy produce for a picnic, and it can also be achieved from the classroom through e-learning; writing letters to Amnesty International in the target language is a particular favourite of our students.
Do your students ever hear your passion for the subject area and your full linguistic ability?
Students are hearing other teachers of other subjects share their passions for complex periods of history, deep analysis of literary texts and exciting areas of scientific research during the rest of the day and then, if we're not careful, they come to us to deal with childish topics like descriptions of family and pets. Grammar and creativity provide ways to raise the complexity but others tactics could include podcasts in which teachers discuss current affairs in the target languages or teachers sharing their passions in the guest speaker series.
How closely are you tied to your local university?
We need the universities and they need us so it is crucial that a strong link is forged. Why not have Year 9 students going out for the day to experience life as an undergraduate? Why not have university undergraduates, desperate for work experience, coming into your school to work with students on specific areas of language? What about having representatives from your local university coming in to adjudicate in-house or inter-school competitions? There are so many things which can be achieved.
Offering something a bit different?
A culture of 3 A Levels plus something else in Sixth Form can be viewed as a big opportunity for languages rather than a threat. We can still offer our conventional courses for A Level/Pre-U but then offer other language-based options for the more flexible fourth option without the pressure of the full A Level. It could be one of the new AS Levels. It could be another language course, beginners or post-GCSE through one of the excellent language institutes like the Goethe or the Cervantes. It could be a cross-disciplinary extended research project. It could be a bespoke vocational language course based in business or travel. By exploiting this option, we can tap into a much wider range of Sixth Form students.