Washington DC: A Sixth Form Experience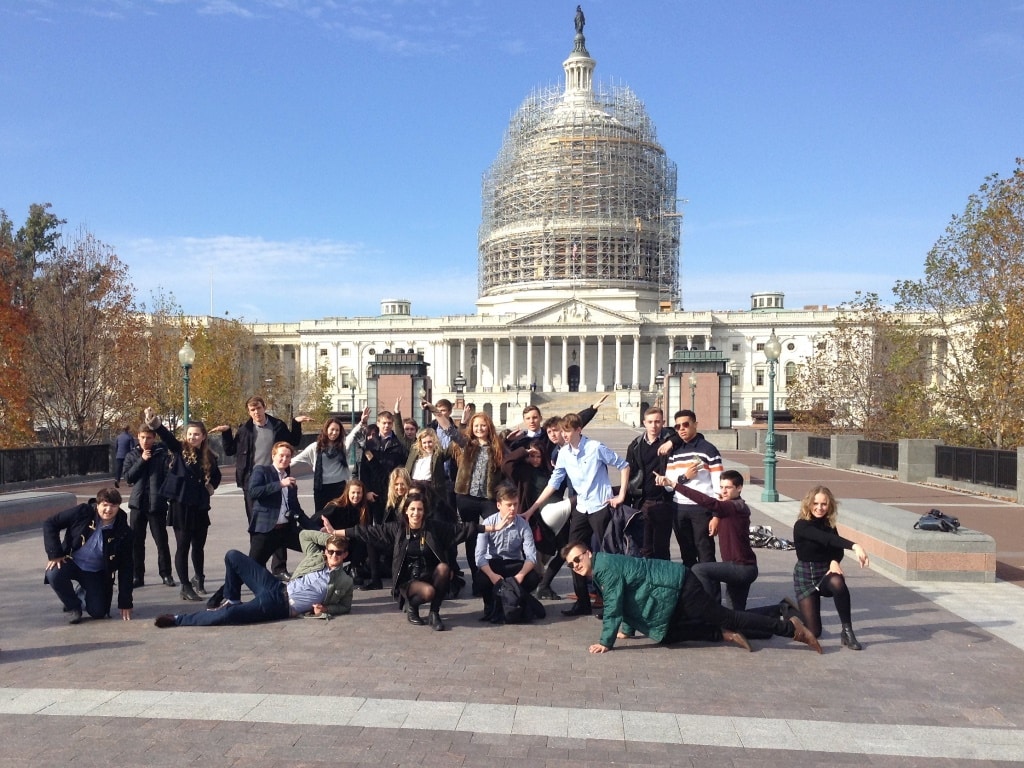 It is a bright and chilly November morning on Capitol Hill in Washington DC, the day before the 2014 midterm elections. We are in Washington DC for one of Cheadle Hulme School's biennial History and Politics trips and, although visiting the vast, white, pillared building that is the US Capitol isn't the only reason why we have flown across the pond, it sure serves as a perfect opportunity for the 40 Sixth Form students attending to strike a pose for a touristy team photo. Being a keen photographer, I am but a little devastated to see the iconic dome completely concealed by scaffolding, but – with congressional approval ratings and legislative productivity hitting historically low levels – it seems appropriate that the so-called "broken branch" looks in need of repair from the outside too.
After rigorous security scans and bag checks, we finally enter the Capitol and are led into Emancipation Hall, an impressive expanse of white, cream and gold with the official US motto, "In God We Trust", inscribed upon a wall. Named to commemorate the slaves whose labour helped construct the Capitol itself, it is filled with statues of people from all walks of life – from abolitionists to astronauts – and serves as an ideal means of celebrating the US's relatively short yet diverse past.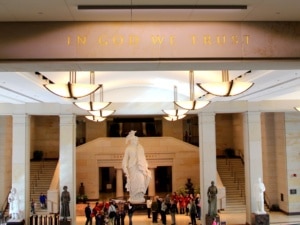 Before beginning our tour, we are presented with a striking (albeit slightly melodramatic) video on the Capitol's history and it is here I first hear the phrase, "Out of many, one". Both this and the Capitol Dome epitomise the Founding Fathers' vision of creating 'a more perfect Union' and preserving both political and individual freedoms. Believing that the US would outlast divisions between Unionists and Confederates, labourers worked on the cast-iron structure we see today throughout the Civil War, and the Statue of Freedom was placed at its top in December 1863.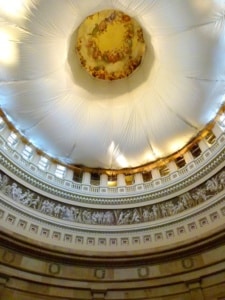 Next we meet our tour guide: inwardly aspiring to become a comedian, he is quick to joke that we are the only reason why there are so many fire extinguishers in the Capitol. Britain set fire to the Washington DC during the War of 1812. Whilst every room we see is extravagantly decorated with age-old paintings and symbolic statues, the Rotunda is easily the most memorable. As the literal and metaphorical 'heart' of the US Capitol, it has a ceremonial, rather than legislative, function, and has been used for state funerals since the time of Abraham Lincoln.
The US Capitol's history is of course dramatic, but what came next was (for me at least) even more remarkable. We always hear about Old Waconians going on to lead exciting lives, and Steve Redhead is no exception: he lives in Washington DC and works for the Congressional Research Service, popularly known as "Congress's think tank". It is thanks to Steve that we are able to actually enter both houses of Congress, and witness first-hand where US Senators and Representatives introduce, debate and vote on the country's laws.
Looking down from the House Gallery, the chamber itself seems quite small, and I catch myself attempting to count every seat (surely there can't be 435?). That is, until Steve starts talking, as he is able to give us an insight into the US political system in a way that no textbook can even come close to doing. Explaining everything from Americans' frustration with partisan squabbling to disappointment with Obama's failure to enact real 'change', he refers to the once-revered president as "professorial" and "aloof". Moving onto the upper house, Steve lightens the mood with the more comical anecdote of the Candy Desk: it is alleged that one Senator has their desk full of sweet treats as to keep the other 99 members energised during sessions.
After lunch, we are introduced to Jennifer DeAngelis, a Senior Health Policy Advisor to Senate Democrat Sheldon Whitehouse.  In what becomes "Think Tank USA", students quiz Jen on just about every topic imaginable: from her boss's daily routine, to her opinion of Obama, and even what it's really like to have Priscilla Zuckerberg as your Harvard room-mate. Since becoming a Legislative Correspondent in October 2008, Jen has worked tirelessly to improve both herself and the lives of the American public, and I am sincerely inspired by her outlook. Choosing change over cynicism at a time when young people are becoming increasingly disengaged with politics is undoubtedly a commendable act.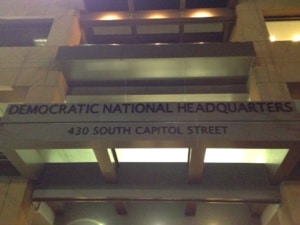 By the time we leave Congress we are tired to say the least, but for the politicos amongst us the day is by no means over. Having headed to a lively Mexican restaurant to meet our third new acquaintance, Leeds University student Samantha Magnus, we consume endless bowls of moreish nachos and chat to Sam about the reality of being a Senate intern, all before journeying on to our final destination: the Democratic National Headquarters. Following a brief explanation from a welcoming staffer, we are soon calling up electors "on behalf of the Democratic Congressional Campaign Committee" and, whilst we do speak to a few blues who have turned red since 2012, Seth Moulton, the House candidate we are pushing voters to support, wins in Massachusetts's 6th District.
The fact that I have covered just a single day gives testimony to the vast number of unforgettable experiences we had. Not only was the trip hugely valuable in the educational sense, it also demonstrated the emotion of the nation's people in defining events such as the Civil Rights Movement and the 2008 Presidential Election. This allowed me to understand US History and Politics from a truly American perspective, and I know that the week I spent in Washington DC will be one I remember and cherish even after my time at Cheadle Hulme School is long gone.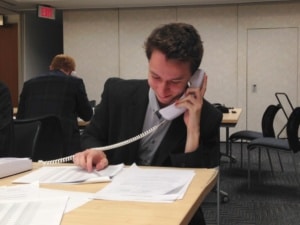 Lauren Darwent, Class of 2015