Altruistic pupils, staff, and parents at CHS are showing resilience, compassion and contribution by providing PPE to healthcare workers – and have raised more than £3,000 – to help the NHS in their battle against Covid-19.
Responding to the need for more personal protective equipment to defend against the virus, the School is providing and delivering face shields, goggles and scrubs to frontline workers and primary carers in Stockport and across the North West, including 13 hospitals and GP surgeries.
Staff in CHS's Design and Technology Department, led by Teacher of Design and Technology Angus Tulloch, are on course to making in excess of 3000 face shields by using 3D printers with personal "CHS to NHS with love" messages.
Old Waconian (former student) Tim Merchant, a GP with Stockport's Viaduct Health Care tweeted: "Thank you @CheadleHulmeSch these are really well made and will help to protect the team and our patients! Really love the inscription. A reminder each time we put them on that we've got everyone behind us."
Receiving further requests for help from other medical and healthcare staff, the School's fundraising team launched an online campaign asking for donations to allow its Design and Technology department to purchase materials and produce more PPE, whilst ensuring safe transportation of the equipment.
With the help and support of its local community, CHS smashed its £1000 target in under 2 hours and were also donated with supplies by local law firm DWF.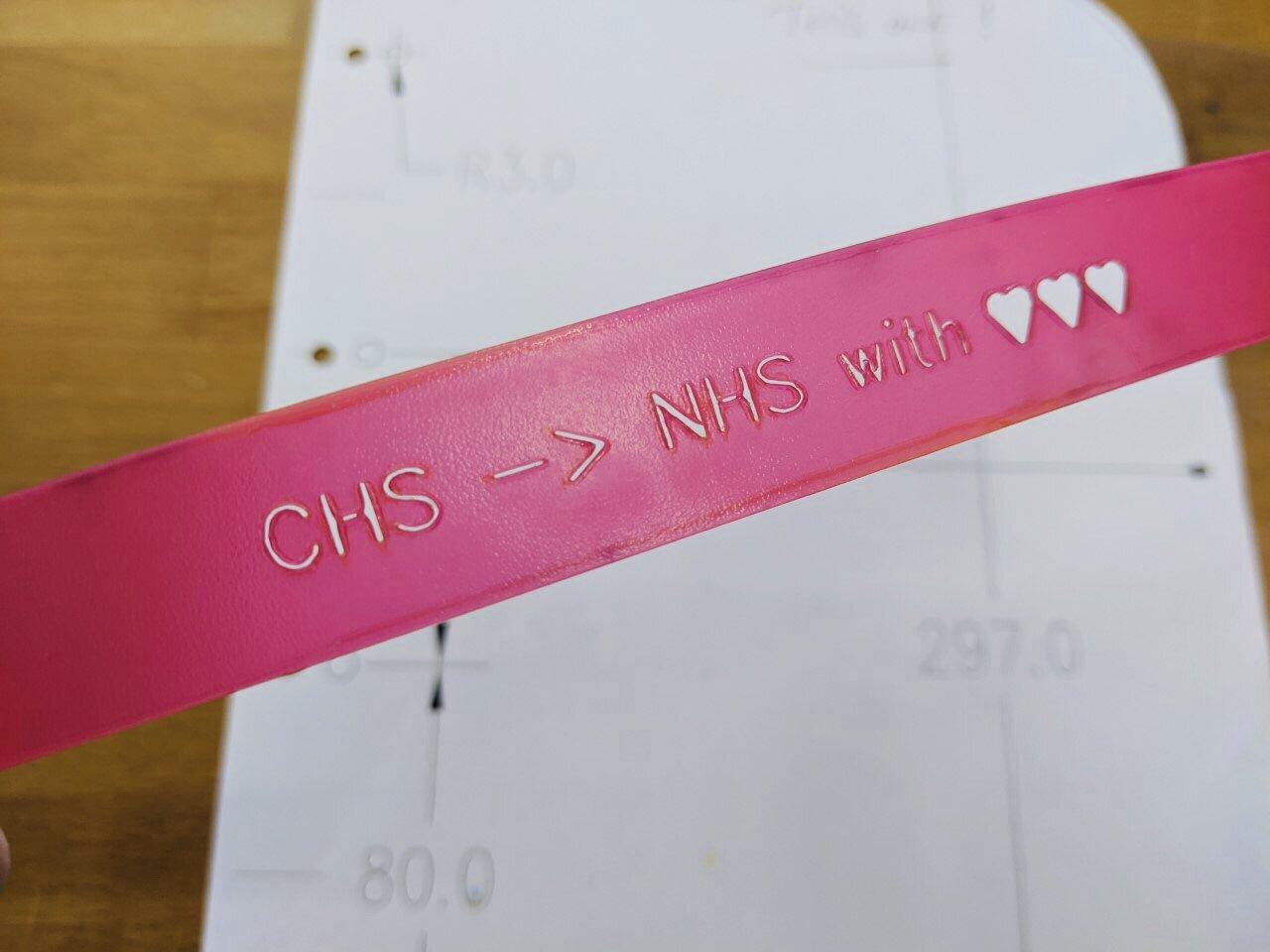 CHS Design and Technology Teacher and the School's Charities Co-ordinator, Mrs Fiona Buxton said: "The encouragement and financial support from the community has been overwhelming; after creating as many visors as we had materials for, we could buy more supplies but eventually had to put out an appeal for 0.5mm or 0.7mm polypropylene sheets. Thankfully DWF responded with 200 sheets of polypropylene so we are back in business! The support of everyone has been amazing and we'll keep working hard to create as many visors as we can to help those on the frontline."
Naveen Gupta, father of CHS Senior School pupil and Partner at DWF Law said: "I was really heartened to hear that Cheadle Hulme School's Design and Technology Department were making visors for our amazing NHS community. I'm delighted that DWF could help in some way. Thanks to Rachel and the DWF Facilities team for coordinating with the school and well done and thanks to CHS!"
The School's Science Department has also responded to Viaduct Care's call out for more protective equipment by providing trays of goggles, aprons and gloves.
Colette Norbury, CHS parent and GP at Hawthorn Medical Practice tweeted: "We can't say thank you enough to Cheadle Hulme School and the DT department in particular. Providing face visors for our covid hot clinic. All ready for a bank holiday Monday! #thankyou."
CHS Head of Art, Mr Adam Hayley and his wife Sarah also thanked CHS for their support. Sarah and her team at NHS Stockport, Kingsgate House said: "Thank you so much to Emily DeVere and Angus Tulloch at CHS for our protective visors. The NHS Stockport Evening and Overnight District Nursing Team very much appreciate them. We visit many vulnerable people, some at the end of life to deliver nursing care in their own homes, these visors will add to our protective equipment to keep our patients and us safe."
Mr Hayley said: "Thanks Angus and Emily! Sarah has been so worried about the state of her PPE in particular her previous visor which wasn't fit for use! She says that this visor is incredible as it fits well and has no fabric components therefor it can be swabbed after use and used time and time again – safely!  It makes us rest a little easier at home."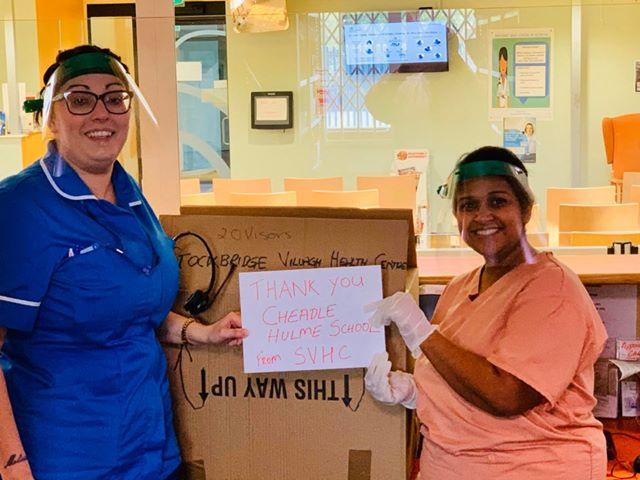 Alongside their remote learning, the School's pupils have used skills from their weekly co-curricular sewing class 'Stitch Social' to make laundry bags for medical staff to use in washing their scrubs. Others have posted flyers to vulnerable neighbours with offers of help.
Staff have sewn scrubs and provided on-site care for pupils of key workers, whilst pupils and staff from neighbouring Greenbank School have also been welcomed to CHS in providing their own key worker childcare to minimise and contain movement to a single site.
CHS Head, Mr Neil Smith said: "We are all hugely grateful for everything those working on the frontline and in healthcare are doing. Their selflessness is a valuable lesson for us all and whilst CHS has always been proud to support and serve its wider community, in these particularly difficult times it's so encouraging to see everyone pulling together, both pupils and staff, displaying their Waconian values of compassion, resilience and endeavour, contribution and integrity, not only by helping those in need but also by staying at home and sharing positivity."
Follow @CheadleHulmeSch on Twitter to stay up to date with the School's progress in its continued support of the NHS.