Sasha's Lamppost Banners Give Waconian Welcome
Visitors to CHS are being welcomed by an array of colourful new lamppost banners – designed by one of our 2021 Duncan Matheson prize-winners, Sasha.
Year 9 pupil Sasha, who designed the banners as part of the annual summer-long project, chose to investigate how CHS is presented as part of the School's marketing strategy.
When CHS's External Relations team saw her portfolio of research and new lamppost banner designs, they asked Sasha for permission to transform her designs into professionally-produced banners.
CHS Marketing Manager, Miss Lisa Durrant said: "We are really impressed with Sasha's work; not only are her designs well-thought out with some brilliant creative captioning whilst displaying the School's values, but Sasha has also clearly spent a lot of time researching previous banner designs and has demonstrated a really solid understanding of CHS's branding. Well done Sasha, it looks like you could have a very bright creative career ahead of you… we think the banners look brilliant and know they will give all our visitors a truly Waconian welcome."
Talking about her creative process, Sasha said: "I used lots of different platforms to create my portfolio and designs; it was challenging because of the different colour modes each one uses so I used the RGB codes in the brand guidelines to keep everything consistent. I enjoyed using Publisher to create a collage for the portfolio cover too and printed that off before binding it together. I also used inspiration from the internet to gather ideas which I could develop and convert into a CHS style."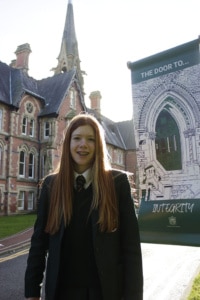 CHS's Duncan Matheson project is introduced at the end of Year 8 and handed in at the start of Year 9. A 10-hour challenge, pupils choose their own topic title to investigate and present their findings in a format of their choice. It is designed to give pupils time to be creative and explore their passions away from the curriculum whilst increasing pupils' understanding and use of CHS's Thinking Skills developed in lesson time.
As part of their work, pupils evaluate their own use of; Analysing, Evaluating, Creating, Problem Solving, and Independent Enquiry (through research with e-resources beyond search engines and building reference lists) plus communication – all of which are embedded in their lessons as part of CHS's Senior School Curriculum beginning in Year 7. Entries are then judged according to fulfilment of the given criteria.
Mrs Rachel Dalton-Woods, Assistant Head (Independent Learning & Professional Development) and Duncan Matheson Co-Ordinator said: "The Duncan Matheson project is a great foundation for taking study skills to the next level, particularly if pupils choose to embark upon the Higher Project Qualification (HPQ) in Year 10 as an additional subject which is equivalent to half a GCSE, or the academic Extended Project Qualification (EPQ) in Lower Sixth as a fourth option and equal to half an A Level which prepares pupils for study beyond Sixth Form."
Sasha said: "The Duncan Matheson prize is good because its open title gives you the freedom to express who you are and how you feel about certain things. It's a long project and gives you time to look further into your chosen topic."
Congratulations to Sasha, plus all of this year's winners;
Charlotte Holmes

'The Land Of Neverendings Musical'

Lucien Fitzgerald

'What is consciousness?'

Abigail Kennedy

'What makes a perfect cake?'

Oscar Treloar Boanas

'The History of Jazz'

Amy Heuting

'Why should men be feminists?'

Retheic Rajen

'Should the NHS be privatised?'

Alex Viveash

'The Rite of Spring'
Enjoyed this story? You can listen to each of the winners discuss their Duncan Matheson project and find out more about its purpose on the latest episode of CHS's Ed. Podcast here.